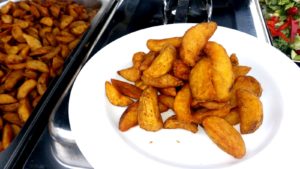 We are sure we will have heard of Hog Roast Halesowen for our excellent catering services, providing succulent roasts and sometimes drink as well for all kinds of special occasions. We actually offer much more than hog roasts, though they are our speciality of course, as you can see from our name, but that's because we believe that choice and variety is the spice of life when it comes to catering. Whether it's due to a personal diet needing covering or because you or your guests would prefer to eat something else, or even because you'd just like to add extra dishes so that more choice is available at your party or event, we always ensure that everyone can eat and enjoy our homemade food.
When Juliet called us to book the catering of her milestone birthday party at a local hotel, she was interested to know more about our Southern Slow Roast Menu that she had seen on our website. With three marinated meats and four side dishes provided, plus the option of a vegetarian dish too, she knew that this would give her guests the choice and variety she longed to give them on her special occasion. With the various meats that we can cook with this menu, we prepare them in our special rubs, so you can enjoy Creole lamb or Cajun whole-roasted chickens or our barbecued pork butt, for instance. Add to this accompanying sauces, plenty of bread rolls and wraps and four sides such as mac and cheese, coleslaw, sweet potato wedges with a kick, or jacket potatoes,  and Hog Roast Halesowen will wow your guests from start to finish.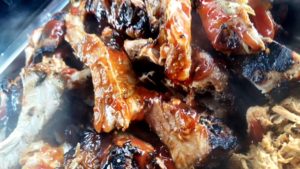 On the day of Juliet's 50th birthday party, our Hog Roast Halesowen team went along to the lovely venue and set up in the marquee, where we would be cooking inside away from the rain. After cooking a trio of meats for hours on end (beef brisket, sticky pork ribs and lamb) and preparing four fresh sides (a Greek salad, a green leaf salad, corn cobettes, and wedges), we got ready for the birthday girl and her 35 guests to queue up for some very tasty food.