Hog Roast Shirley was delighted to receive a rather unusual request. A client asked if we could cater for a golfing event! No problem we said and even went along to the course a week or so before to have a look at where the best place would be to position our machine, staff, serving utensils and plates etc.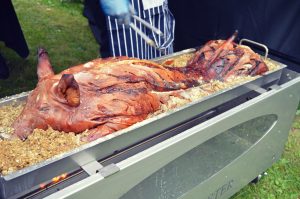 Our client was delighted when Hog Roast Shirley suggested a mini stall could be placed at the 9th hole (that's half way round for you none golfers!) Where we would offer snacks such as sandwiches, small appetisers, and cold drinks – this happened during a lengthy hot spell so taking the whole affair outside wasn't much of a gamble and on the day the drinks were indeed greatly welcomed – and then the main roast was to be in a clearing just off from the last hole where the golfers could eat and drink as much as they wanted having built up a great appetite and after being teased earlier by the mini stall as to what was to come!
On the big day this proved to be a massive hit with all of the visitors and by the end of the event every scrap of food provided by Hog Roast Shirley was voraciously devoured so much so, that eventually not a scrap was left, although if the truth were to be told, it was highly unlikely anyone could have eaten much more such was the appetite for the food that there was. We left on a balmy summers evening leaving behind some very contented golfers, some of who said they'd had one of the best days golfing experiences, and a decidedly cheery crew who seemed to forget they had been at work as they day was such a delight.
The best news from Hog Roast Shirley's point of view is that before we left, we were asked to do the entire thing again next year with an urging to put it in our diary right away so we will be available! So, we did, and we are already looking forward to it big time. It just goes to show how versatile Hog Roast Shirley can be! The sky really is the limit to the types of occasion we can cater for so whatever you have in mind, no matter how unusual, give us a chance to make a great day an even better one!