Lots of our work takes place through the day but we get asked to host many an evening event and Saturday we were doing just that. A firework display was taking place in our village and we were feeding the hungry crowd! So off we did trot with woolly hats and scarf's as if was a chilly evening but a wonderful atmosphere at the display. We brought with us a brisket of beef and lamb and some amazing sausages too. We set up our table in a safe area away from the crowds and started to cook the Hog Roast Shirley.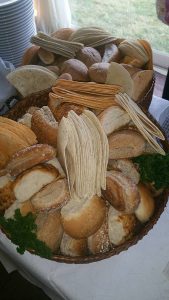 Cooking on our amazing machines takes a quarter of the time and does all the work for us, our machines are our pride and joy and we are fanatical about cleaning them we look after them well and they serve us well! For the event we brought with us boxes of our jumbo bread buns baked by our lovely bakers fresh each and every day, we also brought some salad and an assortment of ketchup, mustard and dips giving the meat a lovely flavour but our meat is just as tasty by its self as it needs nothing to enhance the flavour truly mouth-watering.
When the display was mid way our meats and sausages were cooked and we arranged the meats and sausages in their buns and handed them out to the hungry crowd who were eager to sample the Hog Roast Shirley. It was like feeding the five thousand the crowd just didn't end and nothing was left at the end! That is what we love when all the food goes we know it was a job well done! We even got a round of applause by the crowd which was a first for us and we couldn't help but chuckle but felt appreciated and had lots of lovely kind words, we hung back a bit after we cleared and packed the van to enjoy the rest of the display a perfect evening reminding you of the long dark nights that lay ahead we all agreed that evening catering is becoming our favourite. We left the event ready for our beds, alarm set as we were heading west the very next day… we are always busy at Hog Roast Shirley!