If you want to enjoy a hog roast but some of your guests don't eat pork, it's never an issue for us, as we can provide all kinds of alternatives for them. While we are well-known for our fantastic hog roasts Sparkhill, we can also spit roast different kinds of meat, such as lamb, beef, chicken and turkey, or we can barbecue sausages or burgers, as well as provide meat-free options for vegetarians and vegans. Guests with dietary requirements such as wheat-free or gluten-free can also be catered for, as long as we know in advance of your party or event.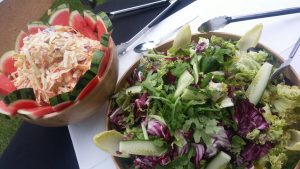 For Karen's housewarming party at her huge new country pile, she asked us to supply our hugely popular hog roast roll menu, which includes bread rolls filled with slices of pork and crackling and topped with our lovely homemade apple sauce and stuffing. With several people needing another option, however, Karen asked us how we could cater for some vegetarians and gluten-free guests. We let her know about some of our tasty veggie choices, such as Spanish quiche, vegetable tart, and stuffed mushrooms, and she chose the tart. As for the gluten-free guests, they could also enjoy the hog roast with suitable bread rolls that we could provide, as everything else (including the meat, sauces, and stuffing) are already gluten-free. Additionally, Karen asked us to provide a few fresh salads to accompany the hog roast Sparkhill.
Happy with her choices, Karen booked us in and looked forward to the event, which we catered just yesterday. The sun was warm and the day stayed fine for the party. We set up the hog roasting machine, serving table and a gazebo to shade the meat and got to work on preparing and roasting the fat hog for several hours before food service in the late afternoon.
As the guests arrived to the wonderful smells of a hog roasting to perfection, we prepared the rest of the food and laid the serving table with the sauces, salad leaves and coleslaw. We received lots of lovely compliments about our professional service and equipment, but especially for the food itself, which was wolfed down by over 50 happy guests. A brilliant hog roast in Sparkhill.