Despite the strong winds battering towns and villages all over the country recently, uprooting trees and blowing the odd roof off, we've still managed to safely cater for many of our customers, even in the wild outdoors. We've seen some crazy weather as of late but that never puts us off, as we have vast experience of catering in all kinds of conditions. So when we were asked to cater a sweet sixteenth at the weekend with our special hog roast Coleshill, and it was forecast to rain cats and dogs and bring gale-force winds, we didn't think twice.
For Ashley's 16th birthday party, her parents asked us to cook a good old hog roast Coleshill in their back garden, which is fairly sheltered from the elements. They had invited family members and Ashley's close friends from school, so a small pig would suffice for the party of 25, including seconds and more. I could cater this number of guests by myself, so I battled the storm to get to the family home on Saturday, and set up the gazebo. Being good quality and heavy duty meant this gazebo could brave the elements easily, and in this weather, I'm sure a cheap and flimsy one would have taken off into the skies in no time.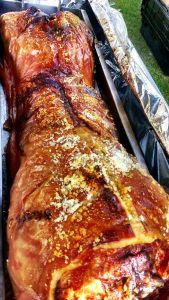 Most of the service would be done indoors on this chilly, windy day, but Ashley's parents wanted the hog to be cooked outside. The wind actually affects the cooking time, so it would take longer than usual, but once prepared, around 3 hours of cooking and this little beauty would be heavenly roasted, with a crispy outer and a juicy inner.
I was nearly blown away a few times while watching over the slow-roast, but I managed to stay grounded and thankfully the rain stayed away. Nearer to the time of food service, I set to work slicing the fresh bread rolls and dishing up our homemade apple sauce and stuffing, and then Ashley's parents kindly helped me move those things into the kitchen. I returned outside again to carve off lots of crackling and pork slices into the trays, and then the delicious fodder was finally ready to be devoured by the hungry guests.