Hog Roast Smethwick not only cater for weddings and private parties but we also have a corporate catering side too. We are able to provide delicious slow roasted food for any number of people and are completely flexible in terms of menu. We are able to provide for any dietary requirements and will always go out of our way to ensure you have everything you could want. Here at Hog Roast Smethwick we truly believe that corporate catering doesn't have to be the dull, tasteless affair you've experienced in the past and with our hog roasts we are out to prove this.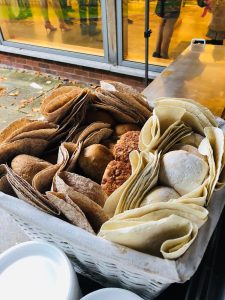 This week we were invited to cater at one of Smethwick's banks for a business lunch. There would be investors, CEOs, local businesses and of course employees present so it was important that there was also some good food being served to make the event run smoothly. As the focus would be on people grabbing a bite to eat and then networking we were asked to simply provide some of our delicious hog roast rolls. This is where we cook a hog on our machines for a minimum of eight hours to pack in all that juicy favour and then we carve and serve the succulent meat on floured bread rolls with lashings of our homemade applesauce and some crispy crackling to top it all off.
As the guests began to network we set about serving our Hog Roast Smethwick rolls. Everyone seemed grateful for such a tasty bite to eat and we are sure it provided a talking point or ice breaker to get those all-important conversations flowing. After serving, we discreetly packed away and ensured we left everything clean and tidy so that everyone could continue with their networking.
On our way out one of the investors caught our attention and praised us for our delicious Hog Roast Smethwick, he even put in an inquiry for a hog roast at his own company, so we knew we had done a good job!