At Hog Roast Coleshill, we have a great team of dedicated professionals, including highly-trained and knowledgeable chefs who have spent years preparing, cooking and serving gorgeous food to the masses. We believe in providing a first-class service to all of our customers, regardless of the formality of event that you're organising, no matter what type of event you're thinking of and whether there's only a handful of guests invited or several hundred. Irrespective of your chosen venue, which could be your back garden or a posh hotel or anything in-between, all of our customers are just as important to us and we strive to surpass all expectations and not just meet them.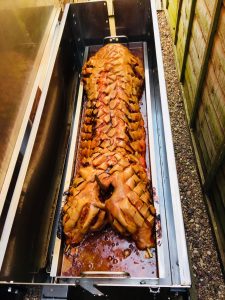 When Hog Roast Coleshill met with Carrie and Ben a few months ago, it was to plan their wedding feast for 70 guests. After marrying in a local church, they wanted to celebrate the big day with their friends and family at a village hall and they knew that the food was an important part of the day. However, the couple didn't want a posh, formal, intricate menu – they wanted simple fare that they knew their guests would love and that's why the main feature of the day would be our sumptuous hog roast rolls, which we call pigs in buns. We lovingly prepare and cook a hog for several hours until crisp on the outside and soft and juicy on the inside, then cram bits of meat and crackling into soft, floury buns and wraps, add our delicious, homemade apple sauce and sage and onion stuffing, and then let you add condiments before devouring.
In addition to the pigs in buns, Carrie and Ben asked us to provide several fresh salads, warmed new potatoes with herbs and sweet potato wedges, as well as a veggie option of kebabs. While we have many alternative dishes, our veggie skewers are highly popular with vegetarians, and have halloumi, mushrooms, tomatoes, peppers, courgette and red onion, all grilled to perfection.
On the day of the wedding, Hog Roast Coleshill arrived in plenty of time before the food service and made sure everything was cooked thoroughly and was beautifully presented. We had so many compliments about the food that we lost count and then it was time to discreetly clear away to leave the happy couple and their guests to dance the night away.