Hog Roast Old Oscott would like to reach out to local pubs who might want to broaden their menu's or do a special event. Hog Roast Old Oscott has an idea for you. Why not buy a hog master or titan machine? Completely simple to use and produces amazing results, cooking a pig in a tray or via a spit pole. Either way your customers will be in for a treat.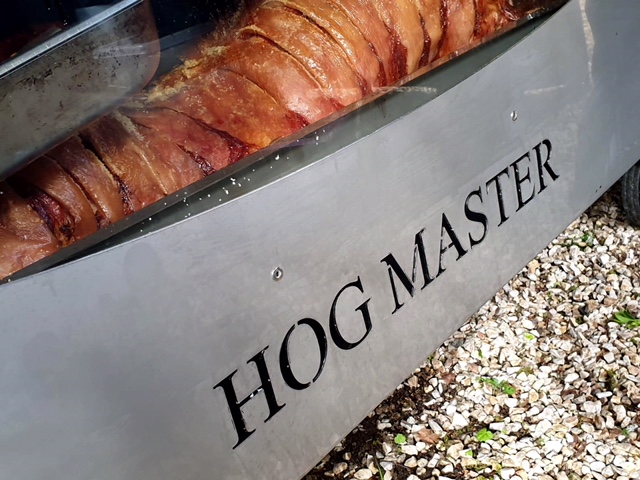 Pork and stuffing rolls gets most of the British public excitable, its delicious traditional yet simple food that people will pay for. At festivals, hog roast caters have the cheek to charge £8 a roll and people pay it!
Both the Hog Master and Titan can cook the perfect hog roast. Simply pop the pig in the tray, score the skin and water and salt into to ensure crispy crackling, and then lower the tray into the machine to cook. The best results come from the pig being slowly roasted between 8 and 12 hours depending on the size of the pig and on low heat. The meat becomes so succulent and just pulls apart. Hog Roast Old Oscott recommends making the stuffing in the juices of the pig; as the juices rise in the machine, pour in the stuffing around the pig. Not only does this make the stuffing completely tasteful, but also gives it a medieval vibe for your customers to enjoy. 
On the other hand, both of these machines have the Spit attachment, where the pig is attached to a pole that spins. Spitting the pig provides an exciting theatre element for the customers. Spitting the pig works exceedingly well in the titan machine since the two burners either side results in a more equal cook and makes the crackling come out amazing. 
Doing an event once a month maybe to entice customers back into the pubs or add it on the menu for a particular day to encourage more sales. Its guaranteed to be an exciting development for your business to motivate people out the house to try something different. 
If you don't want to commit to buying a machine, why not hire one from Hog Roast Old Oscott instead? See how it goes and whether it will increase your profits before committing to a purchase. Enquire today and you won't be disappointed.