Baby showers always go down at Hog Roast Coleshill as some of our absolute favourite events. It's just so exciting, even for us catering in the background, to see all the family come together to celebrate and prepare for a new life entering the world. What's more, is that over the past couple of years gender reveals have become more of a spectacle meaning they are always something to look forward to. For those who don't know, gender reveals involve the expectant couple finding out if they are about to have a boy or a girl but do so in often elaborate ways. For example, they may have a cake or balloons made which when sliced into/popped reveal blue for a boy or pink for a girl. Of course, the internet is wild with crazier gender reveals such as one involving a crocodile chomping down on some coloured watermelons…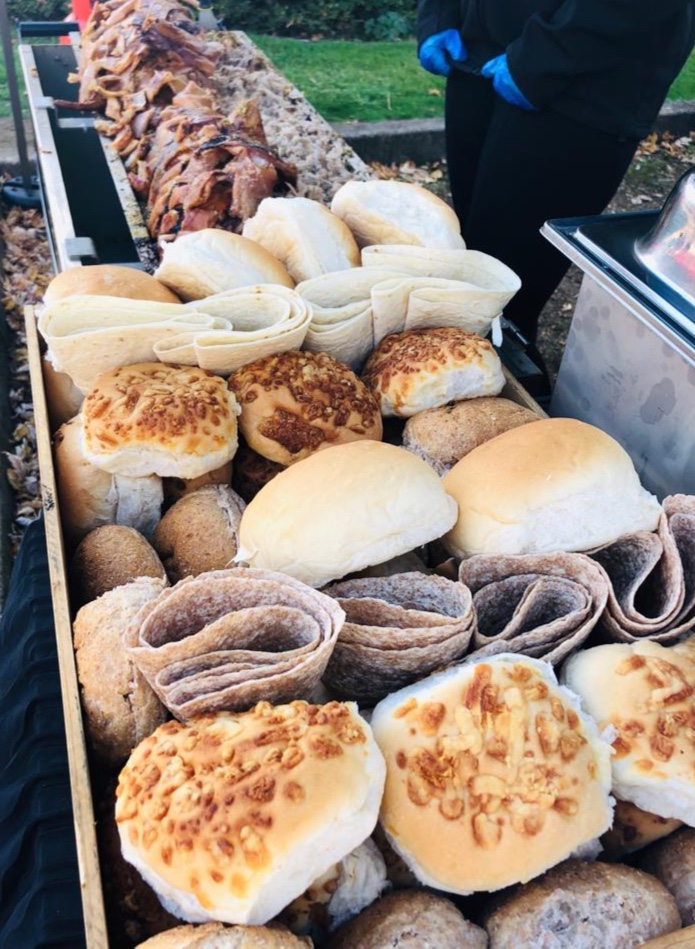 Luckily for us at Hog Roast Coleshill, this baby shower was going to be a slightly more traditional event with no crocodiles in sight! Theodora and Luke were well on the way to having everything prepared for their baby arriving in March and were hosting a baby shower to get all the family together to pass on well wishes, advice and of course pass on any gifts they might have. Theodora was keen on having a gender reveal party and had decided to go down the lovely coloured cake route as her sister happened to be a baker. We were told it had all been very secretive and thus far the only person who knew whether they would be having a boy or a girl was Theodora's sister, Jennifer.
We had been asked by Luke to provide some of our classic Hog Roast Coleshill rolls for the guests as they wanted something classy yet not too filling as they knew all their guests would no doubt be filling up on cake later. As we finished carving the meat and placing it delicately on floured rolls the guests were called over to witness the gender reveal. Theodora and Luke cut into the cake revealing a flash of blue sponge and icing – they were to have a boy! Congratulations!