When asked, our Catering Manager Paul might tell you that his favourite film is Top Gun, but never in his life did he really think he'd be stepping out the tarmac of a real airbase like Tom Cruise himself! But Paul isn't quite an ace pilot like Maverick or Goose – there'll be no cruising at top speeds here – but he is an ace hog roaster, and he was called upon along with the Hog Roast Edgbaston team to provide a huge feast for well over 1500 guests. We'll leave the jet flying and daring escapades to the 1500 strong RAF pilots, engineers and staff team, Hog Roast Edgbaston are content enough with the adrenaline fuelled action of trying to figure top end dining for such an army of guests!
Thankfully, with our staple hog roast and our fleet of quality engineered hog roasting machines, whether it be 10 or 10,000 Hog Roast Edgbaston have the means to prepare a perfect feast for all! With our Titan machines and Hog Master machines at full blast we can cook tonnes of food all at once, each coming to full, perfect golden quality. These machines could cook up a whole host of hog roasts and meats for this party of 1500 no bother!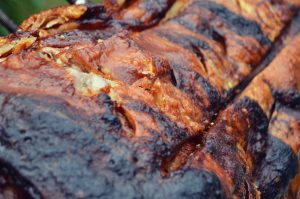 Our classic hog roast is the perfect dish in this instance, since even one can feed around 100-150 guests, so with a couple on the go alongside some pork cutlets, handmade burgers, whole roasted beef sirloins, grilled veg and halloumi skewers, BBQ pulled jackfruit, and enough roast new potatoes, rolls, and salad accompaniments to feed an airbase 3 times over we were more than equipped for the day! That doesn't mean the RAF didn't keep us on our toes however – these servicemen and women can certainly eat!
Our services are stylish at the best of times, but not even we could imagine the spectacle of a hog roast cooking amongst a backdrop of jets. A surreal moment for the Hog Roast Edgbaston team to be sure, but one that just makes us hungry for more moments like this. It's why we do it after all!