Hog Roast Greet has catered many weddings over the years, in many different locations and from a rustic informal reception to a posh affair and everything in-between. No two weddings are alike and that means we need to provide plenty of options for those customers and guests who want something a bit (or a lot) different. While we make a mean hog roast and a mean spit roast too, we know that variety is key in catering, and that's why for a long time now, we've offered various menus and the flexibility for you to even create your own. Whether you need your wedding meal catering or you need a private party or corporate function catered, we have lots of choice and variety to ensure that all of your guests get to enjoy our tasty food.
We were recently asked to cook one of our centrepiece hog roasts for Hannah and Jim's wedding reception at a local hotel, in addition to some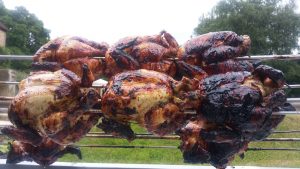 spit-roasted chickens, a vegetarian option and several accompanying dishes. The couple had enjoyed our hog roast at their engagement party last year and knew they had to have another as the highlight of their wedding meal but also knew they would need to provide other food for some of their guests. Those who didn't like pork could eat the whole-roasted chicken, while vegetarian guests could enjoy our popular veggie skewers, with halloumi pieces and various vegetables.
On the day of the wedding, our Hog Roast Greet team arrived in the morning, hours before the 2pm food service. After setting up our gazebo, serving tables and hog roast machines in the hotel grounds, it was time to prepare the hog for its roasting and then set the temperature low and watch over it as it sizzled away. Soon enough, it was time to prepare the six chickens and before we knew it, the guests had started arriving and we were cooking the skewers, putting together some lovely salad dishes and dishing up the sauces, as well as our stuffing and apple sauce.
Hog Roast Greet had a great time serving Hannah and Jim and around a hundred guests and it was clear from the empty plates that everyone loved our food.