There were deer stalkers, trench coats and cloche hats aplenty last weekend, when Hog Roast Bartley Green catered for Alison's detective themed 40th birthday bash! Alison had been a lifelong fan of whodunnits, especially Agatha Christie, so for her milestone birthday she decided to pay homage to her favourite fictional heroes and villains by basing her celebration around this theme!
The Hog Roast Bartley Green team are certainly no strangers to catering of fancy dress and themed parties, but this was the first time we had the honour of cooking for Sherlock Holmes, Columbo and Hercules Poirot at the same time! The birthday girl herself came as her favourite Miss Marple and everyone looked great in their costumes!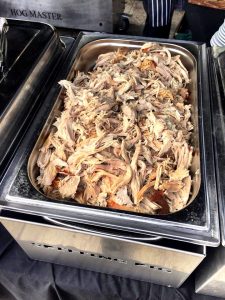 She asked us to do the honours when it came to the catering because of our great food of course, but also because of our ability to adapt our approach to suit any party, whatever the theme. Alison chose her favourite meat, spring lamb, rather than a traditional hog roast for the main course, served with the perfect companion of rosemary and garlic new potatoes, along with the freshest, locally-sourced season vegetables available. She loved our choice of alternative meats and told us she hadn't realised before speaking to us that we offered such a wide range!
The lamb was very popular with the all of the connoisseurs of crime, and our vegetable skewers were met with equal enthusiasm by Mr Holmes himself, played impeccably by Alison's brother Tim! He told us before reading the menu, that his heart had sunk when he found out Alison had hired a hog roast company to do the catering, because he assumed he was going to go hungry all night! Just like his sister, Tim hadn't realised the scope and variety of our menus, and he was so pleasantly surprised with his vegetarian alternative that he now wants to hire us himself for his 10th wedding anniversary!
The murder mystery loving birthday girl had a brilliant time and she couldn't have asked for better costumes or a better ambiance for her 40th birthday and she thanked the Hog Roast Bartley Green team for providing such fantastic food that made the night even more special for her!