When Hog Roast West Bromwich caters for your party or event, it's with delicious food made from fresh, high-quality ingredients, and they're often sourced locally. This includes the meat that we use, such as for the sumptuous hog roasts that we make from scratch at your venue, so that it's hot and fresh as can be when you sit down and eat. However, it also includes other meats that we cook, as we don't just cook our famous hog roasts; we can make you spit-roasted turkeys, chickens or hunks of beef or lamb, we can barbecue 100% beef burgers, our chef's gourmet sausages and a rack of ribs or we can cook meats that we've marinated for a long time beforehand.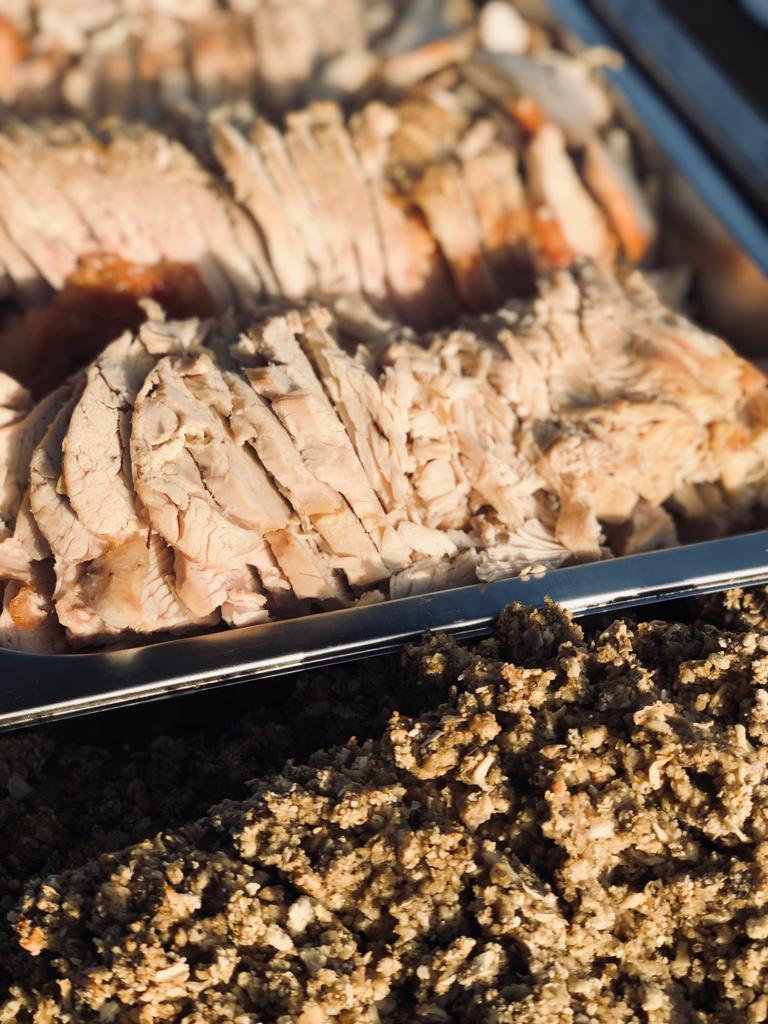 It's not just meat that Hog Roast West Bromwich excel at either. We've spent many years providing all kinds of additional dishes, so you can enjoy a multiple-course meal on your special occasion, or you can choose to have some hot or cold sides or even a selection of our handmade canapés served. We also make sure that guests with dietary needs are always covered, as long as we know in advance, so our alternative dishes like stuffed mushrooms, vegetarian quiche, skewers or burgers will wow those guests and let them know they're also thought of at your party or event.
At this time of year, we also have on offer our winter warmer menu, where we cook up a real feast for you and your guests with meat, veg and potatoes, and with our festive menu too, which offers so much more. For a staff Christmas party that Hog Roast West Bromwich catered on Monday, our festive menu was just the ticket for fifty guests, where Barbara had asked us to cook our turkey version, with fresh turkeys whole-roasted over flames, served with our homemade trimmings of cranberry sauce and stuffing, as well as cauliflower cheese, pigs in blankets, four veg, roast potatoes and our homemade gravy.
After our main course had been served and completely devoured, we then served our traditional mince pies with brandy cream, and then we cleared away as the guests got to enjoy a live band while they rested with full tummies.