The lovely Rachel and her groom to be Ben have just booked their wedding menu with Hog Roast Handsworth Wood. It is a very exciting menu and Hog Roast Handsworth Wood's team look forward to delivering superb service with delightful food!
To kick off their wedding party, Hog Roast Handsworth Wood will be serving a medley of cocktails and mocktails for their guests. They have opted for the classic summer cocktail Pimms, Gin and Tonic and the mocktail virgin pornstar martini. The serving table is certainly going to be filled with colour! Especially with the addition of striped straws and cocktail umbrellas – exciting!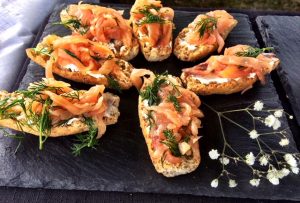 While the welcome drinks are being accepted, canapés will be enjoyed by the guests. Rachel and Ben have decided on the incredibly tasty fillet of beef, the roasted halloumi and tomato crostini, the mini pizzas, smoked salmon, and the roasted duck. A delightful selection of delicious appetisers for sure!
The main course is an absolute feast! The bride and groom to be have opted for the whole roasted pig which is accompanied by flavourful sage and onion stuffing and crispy crackling – a mouth-watering choice! Their second meat option is the spit-roasted spring lamb infused with garlic and rosemary and accompanied by Yorkshire puddings – another tasty choice! Guests can enjoy either all or a bit of both. To mirror the favours of the lamb, they have chosen the roasted new potatoes and because they are getting married in the summer, they thought the options of salads would be preferred over seasonal vegetables. All the salads are prepared fresh on site and are completely scrumptious! Four salads are served so there is an option for everyone to enjoy.
Rachel and Ben both have a sweet tooth so found the dessert decision the most difficult! Eventually they have gone for the indulgent and heavenly chocolate torte topped with a dark chocolate glaze and a chocolate truffle and the other they have opted for a lighter option of vanilla cheesecake finished with a white and milk chocolate swirl. The desserts will be served with pouring cream.
To finish of this fabulous menu, Hog Roast Handsworth Wood has the honour of cutting, plating and serving their wedding cake. The wedding cake will be served with fresh summer berries and with the option of cream.
If you fancy this menu or something similar why not browse the website and enquire now! Roll on Rachel's and Ben's special day!