The journey from planning our catering menu to watching the party unfold is always fun and it is a great experience to be a part of. When Kim contacted us about catering her 40th birthday party, we were more than happy to help and got straight to work deciding on the right menu for her and her guests. It was a large birthday, with around 100 guests- so we knew we had to do something impressive!
For the menu, Kim knew she wanted it served buffet style since this was best for her budget and most suitable for her informal theme. We decided to offer a selection of meats, vegetables and side dishes, as well as a few desserts to accompany her birthday cake. Once the menu had been chosen, it was time to wait for the big day!
Kim's birthday party took place in June, in her local village hall. The hall had an extensive field behind it, which we used as our catering location. The sun was wonderfully shining on the Hog Roast Birchfieldteam, creating a lovely, summery atmosphere for the party! It was also the perfect conditions to cook outdoors in, since the hot sun ensured our meats cooked evenly and deliciously.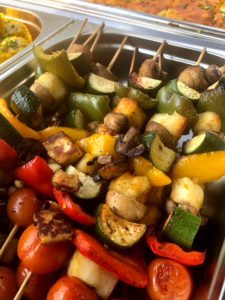 The main course went down a treat and all of Kim's guests loved seeing their food prepared in front of them. Here at Hog Roast Birchfield we only use the freshest ingredients for every dish, including our pork, free-range chickens and local vegetables. This ensures the taste is excellent and the quality cannot be beaten. The hog roast was the star of the menu, although we offered a variety of other dishes, such as vegetable skewers, jacket potatoes and whole roasted chickens, to ensure there was something for every taste.
Being a part of Kim's 40th birthday party was a great experience for the whole Hog Roast Birchfield team. If you have a special birthday approaching, why not get in touch today to see what we can offer for you! Get in touch today and let us know your date, party size and location and we will be happy to help you out.