Here at Hog Roast Shirley, we are certainly no strangers to wedding catering, but this was the first time we had been privy to the entire planning stage when we were asked to cater for a wedding roadshow! The event was taking place at a local convention centre and the roadshow organisers thought it would be great if we were there to provide the busy brides and grooms to be with some fresh and hearty slow-roasted pork to keep them going throughout the day!
The place was huge and already a hive of activity when we arrived, with various companies setting up stalls all around us, from florists and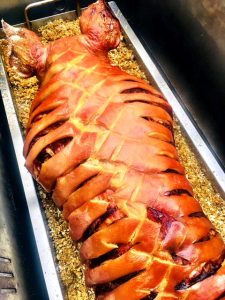 photographers to bridal gown retailers and representatives from various wedding venues. There was expected to be a massive turnout and although we had been given a rough estimate of how many people we would be cooking for, it was impossible to predict last minute ticket sales. The roadshow organisers had nothing to worry about though-the Hog Roast Shirley team are experts at catering on a large scale and because we are so organised, we always manage to deliver great food and swift service, no matter how many diners we need to feed! We don't cut corners to achieve that either-every plate of food we serve is as fresh and well-presented as the first one, as our crowd of roadshow attendees soon found out!
The roadshow did indeed get very busy, very quickly and our slow-roasted pork went down a storm with everyone! They all loved Hog Roast Shirley's food and it was deemed the perfect way to refuel before re-joining the throng in their exhausting quest to find their ideal venue, dress and flowers!
Not only was our food going down extremely well on the day, our friendly chef also got chatting to a few couples who were undecided on their catering for the big day and they all took a keen interest when he informed them about our wedding menus! Everyone left the roadshow well-fed and hopefully feeling a bit more prepared for their wedding day, and we are confident that we will be hearing from the couples who were interested in our wedding menus very soon!