For a taste sensation that can't be beat, a traditional Hog Roast Shirley hog roast centrepiece at your next special occasion will surely wow your guests. With its inviting aromas, theatrical appearance and mouth watering meat and crackling that are produced after slowly sizzling away for hours on end, they'll love it either as pigs in buns (our version of hog roast rolls) or a meal together with seasonal veggies, potatoes and our homemade trimmings of apple sauce, sage and onion stuffing and onion gravy.
Regardless of how you like your hog roast served, it may be that some of your guests prefer a different kind of meat or there may be some people who have dietary requirements and either way, Hog Roast Shirley can cater with various delicious options. We've always understood the demand for alternatives, so within our menus, you'll find an abundance of possibilities in order to satisfy everyone's appetites and diets.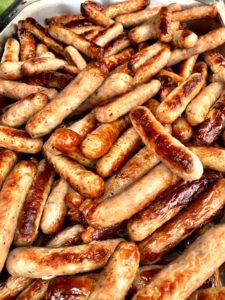 If you'd like a spit roast instead, we can cook up chickens, turkeys, lamb or beef, for example, or if you fancy a barbecue, how about our chef's gourmet sausages, 100% beef burgers, chicken kebabs and spare ribs. We've also developed several of our own standalone menus, such as our Southern Slow Roast, where we dish up your choice of three tender, slow-cooked meats that have been marinated, which we serve with tasty sauces and four sides (and we have both hot and cold options of the latter).
Additionally, if you're thinking of us providing more than a main course, we have plenty of starters, sides, desserts and even handmade canapés on offer. Not only that but we give you the ability to mix and match items between our menus in order to create your own, which we can help you with if needed. As you can see, when you hire Hog Roast Shirley to do your catering, you're in control, as you get to choose whatever you want to be served but you also get to decide which dishes to serve to any of your guests who have particular needs or preferences. Call us today to see how we can help your next party or event.