You can see from our website that we offer an array of menus to suit every type of party or special event but we're also flexible enough to allow our customers to create their own bespoke menu if preferred, too. You may want a particular choice of meat for your corporate do or several courses for your guests to enjoy at your wedding reception. If we don't offer it on our menus, that certainly doesn't mean that you can't have it, and we do our best to source foods that you may want to be featured on your special day, whatever that may be commemorating.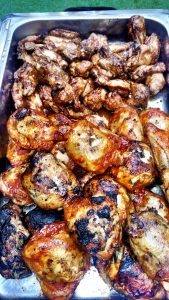 To celebrate her mum's 80th birthday recently, Lily asked us to combine one of our Hog Roast Winson Green menus with some additional food, so she could create the perfect menu for this extra-special milestone. Having never before tried a succulent Hog Roast Winson Green feast like ours, Lily's mum was in for a treat on her big day. Lily had enjoyed Hog Roast Winson Green catering at her friend's engagement party in the summer and kept us in mind for this party. She asked us to supply our scrumptious pigs in buns for her mum's birthday – slivers of moist meat and crunchy crackling bits in fresh, floured bread rolls, topped with our own apple sauce and sage and onion stuffing. Additionally, Lily requested a spit-roasted chicken, as it was her mum's favourite meat, as well as some salad dishes and new potatoes. There would definitely be enough tasty food for the 40 guests.
We turned up at the lovely back garden venue on Sunday afternoon with a medium-sized pig, ready to roast for a few hours, and a decent-sized chicken to spit-roast. First things first and that was preparing the hog, as it takes much longer, and then keeping an eye on it as it cooked.
Some time later and it was time to make the chicken dizzy! Nearer the teatime service, we cracked on with freshly prepping the salad leaves and tomatoes, buttering the bread rolls, dishing up the apple sauce, stuffing and potatoes and setting out the serviettes and condiments on our serving table. Lily's mum was especially surprised when she saw the roasting pig and chicken for her special day, and she told us that she loved both of them.