Catering private parties is something we are used to, as we have over thirty years of experience under our belt. Whether it's a birthday party, christening or summer ball, from a handful of guests to hundreds, we can provide food catering with the wow factor that will impress your guests no end. When it comes to the number of guests, you'll get the same high level of service even if you have an intimate party, just like we did for Di's birthday party that we catered over the weekend with a Hog Roast Hagley.
You may have thought that to cook a Hog Roast Hagley you need a large open space, but having catered in Di's back yard, on her tiny patio, we can tell you that it really isn't necessary. If we're roasting a hog or spit-roasting indoors, then the space needs to be well-ventilated, but roasting a hog outside can be done pretty much anywhere.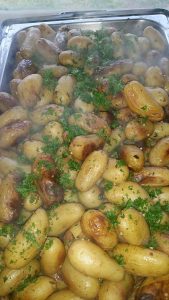 For Di's 45th, she wanted a small hog roasted for 7 friends and herself, and asked us for our winter warmer menu which includes seasonal vegetables and potatoes. Di selected carrots, parsnips, and Brussels sprouts to be roasted together, a tray of new potatoes with a herb butter, and of course the hog itself, all to be smothered in homemade onion gravy and accompanied by apple sauce and stuffing (both homemade, too).
On the day of Di's birthday, a chilly but thankfully dry day, I went along to her home and set up our equipment outside. After putting up the gazebo and serving station, it was time to prep the meat for its roasting and then turn on the machine and let it slowly cook for a few, short hours. I could easily cater this event by myself. I had to keep a close eye on the hog as it cooked, and then some time later I added the freshly chopped veg and potatoes to the inside of the machine, as it acts like a conventional oven.
Nearer the time of service, Di's guests arrived and took in all the lovely aromas the meat had produced. They were all excited to try a Hog Roast Hagley for the first time, especially the birthday girl.