The rain didn't stop last week but that didn't deter us we were out and about across the UK doing what we do best at Hog Roast Minworth. Our telephone just hasn't stopped nor has our emails and we have had lots of orders for the coming months ahead. Sunday we were catering for a birthday celebration with a Hog Roast Minworth and it was so cold as we set off at the crack of dawn.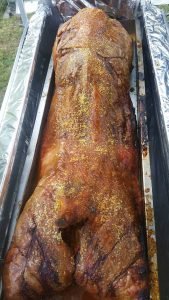 When we arrived we were shown into the huge hall we were catering from for a birthday celebration. We were told that the host was unsure of the numbers but we were asked if we could cater between 100 and 150 and we said that was no problem at all. When we arrived we unpacked the van with our machine and the boxes upon boxes of fresh food and not forgetting the pig! We brought a good size pig and we made some delicious crispy crackling too. As the pig began to cook we got on with the other dishes and there were many. We made a lovely potato salad so fresh and creamy and as always we prepare and cook on site. We also made bowls of salad using lettuce, cucumber, tomatoes, spring onions and courgettes we drizzled the salads in a lovely fresh lime dressing and then made dozens of pots of dips including a nice honey and lemon dip, garlic and lime dip and a spicy dip which really tantalises the taste buds we love adding lot of different flavours and love to experiment.
Just before the Hog Roast Minworth was cooked we prepared the skin by scoring it with a sharp knife and then rubbing handfuls of sea salt into the skin, which makes the most perfect crackling. As the guests arrived we began to serve the pork was so moist and succulent and just fell apart as we sliced it the guests were amazed by the cracking and said it was the best they had ever tasted. The guests filled their plates high and we could see there was far more than 150 guests who had turned up and but as always we came well prepared and a lovely day was had by all.