It's not often that we cater for an octogenarian or a nonagenarian, but Hog Roast Smethwick were recently asked to cater at a care home locally for Mrs. Ashley who was celebrating her 100th birthday!  Her great granddaughter, Alex, arranged the party and contacted us to see if we could cater for around 100 guests (it turned out that the number was exactly 100!) in the beautiful grounds of the home, for a variety of ages and dietary requirements; we said "of course we can!".  We discussed the finer points with Alex and discovered that our famous hog in a roll option would be ideal but as there would be many children there (Mrs. Ashley has over 50 children, grandchildren and great grandchildren with a couple of great, great grandchildren on the way!) an option for the kids would be required.  "Sausages!" we exclaimed; this is always a great option for kids and is a general catch-all and we also suggested that we include our legendary veggie skewers too for any non-meat eaters.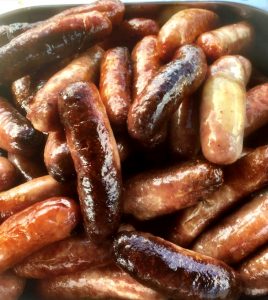 Here at Hog Roast Smethwick, we are aware that there are many good caterers for this type of event but we believe that what makes us great, is our meticulous attention to detail and the high quality of our food and service; all of our chefs and serving staff appreciate and understand the importance of great tasting, high-quality food and delivering a professional service.   We also realise that our adaptability and flexibility in menu choice and tailoring for every client is a massive strength and also sets us apart from the competition; we firmly believe that we can cater for any occasion, any venue and any client; no matter what guest size or requirement!
We arrived at Mrs. Ashley's wonderful home and chose our spot in the garden to setup which immediately brought attention from some of her friends that were already there which increased further as we started to roast the meat!  Once up and running, we started serving the food as the guests were clearly ready for it and were amazed at the choice and the quality of what we had to offer and Hog Roast Smethwick were delighted with all of the clean plates and wonderful feedback.