Despite the dull weather, Joey's 21st birthday party was a fantastic triumph at the weekend. The party had the theme of the TV show, Friends, and coupled with our delightful hog roast Rednal, the guests seemed to have an absolute blast.
The birthday boy Joey was named after one of the show's characters, and it's one of his favourite shows, so his Mum Jennifer thought it was apt to have a themed celebration on such a special day. She asked us to cater the party with hog roast rolls, a large coleslaw and a fresh green leaf salad, while she would be providing some Friends-themed food extras herself.
When we arrived at Joey's family home on Saturday, the first thing that struck us was that the front door of the house had been covered in purple cloth and had a gold frame in the middle – just like Monica's apartment! Inside, the house had already been decorated with lots of Friends memorabilia, and we found out that most of it was actually Jenny's and Joey's own belongings. From posters to DVDs and coffee cups the size of bowls, they really went all out decking the entire house. It was an optional fancy dress party, and Joey had to dress as his namesake, of course. At one point, he had a fake turkey on his head! Jenny was dressed like Phoebe and was seen several times strumming her guitar and singing Smelly Cat.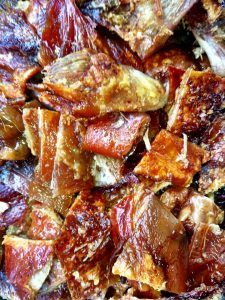 We had to drag ourselves away from the surreal inside of the house to go outdoors to prepare and cook the lovely pig we'd brought with us. Joey realised he should have asked for a turkey spit roast instead, because of the theme of the party, but was still more than happy with the look, smell and taste of his birthday hog roast Rednal. We piled pieces of the pork meat and crackling in soft rolls, and topped them with stuffing and apple sauce, and the guests helped themselves to the salad.
All the little details of this party were done brilliantly and the guests laughed the entire day. Thankfully the hog roast Rednal went down a treat, too, with everyone complimenting us on a job well done and a truly delicious feast.