Christmas is fast approaching as we all know, and Hog Roast Dudley is slowly but surely being booked up with plenty of requests for festive menus and Christmas parties! We were recently contacted by Jamie who worked for a local butcher and was tasked with planning the staffs work Christmas party. Of course, as butchers they were all keen foodies and knew their stuff about the best ways to cook meat and so had requested Jamie organise something spectacular for the meal. Hog Roast Dudley was the first thing Jamie thought of he told us over the phone, as he had been to one of our events in the past and knew that nothing can beat a slow roasted hog that has been carefully and masterfully cooked for several hours.  With such a high expectation we agreed to do Jamie proud and set to work planning the Christmas catering.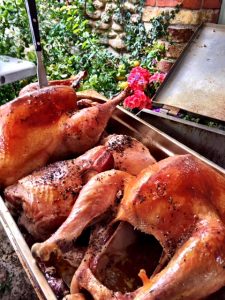 Being a butcher company, they wanted to supply their own meat which was absolutely no problem. They requested us to cook one of our delicious hogs along with a traditional Christmas turkey to get them in the festive mood. All of this would be served with slow roasted seasonal vegetables and our Hog Roast Dudley chefs finest homemade cranberry sauce. We also planned to provide a seasonal pudding for the staff in the form of a homemade Christmas cake which would be prepared before the event in order to allow the flavours to mature and to ensure for the most delicious cake on the day of the event.
With everything organised and planned we assured Jamie he need not worry as Hog Roast Dudley would ensure everything runs smoothly in the run up to the event. All we needed was a confirmation of the numbers and then the rest was down to us!