Our Hog Roast Alum Rock chefs and catering assistants are genuine experts at what they do and always put in great amounts of effort to ensure that our customers and their guests are more than satisfied. When you want to treat your guests to gorgeous, homemade food, whether you're planning a formal or casual affair, and regardless of the location, we will go out of our way to make this happen, and not only by cooking an amazing traditional centrepiece hog roast. While hog roasts are, of course, our speciality dish, and one that we've perfected over many years of being in business, we understand that we need to offer more choice and variety so that everyone's tastes and diets are covered too.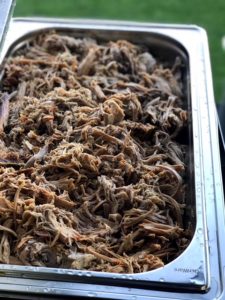 When Jill called Hog Roast Alum Rock to book our catering services for her daughter's sweet 16th birthday, she was excited about us cooking a hog roast from scratch at her home, outside in the sunshine, but was concerned about everyone being able to eat on the day. However, that's one of the very things that we're renowned for, and we calmed her fears when we told her all about our various alternative and additional dishes on offer, and she went away to discuss these with her guests.
Once Jill had asked everyone about what they could eat, she came back to us to ask us to provide a vegetarian option and a vegan option and also asked us to provide extra salads that everyone invited could eat. For vegetarians and vegans, we have several possibilities that our dedicated chefs can whip up on the day, but Jill chose our veggie skewers. For the vegetarians, these would be grilled seasonal veg and halloumi and the vegans would be able to enjoy ones made without the cheese added.
On the day of Jill's daughter's milestone birthday party, Hog Roast Alum Rock cooked up a delicious feast for the thirty guests. It took us over four hours to roast the hog to perfection, and then nearer to the time of service, we freshly prepared the two lots of skewers, a tomato and mozzarella salad, a carrot and orange salad and our special coleslaw. Then by 5pm, it was time to serve some very hungry guests.