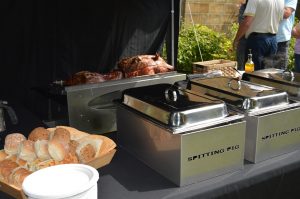 The wacky world of Alice in Wonderland was the theme of the last birthday Hog Roast Ashted had the pleasure of catering for and we knew we would be in for an interesting night with lots of weird and wonderful costumes! As it had been birthday girl Kate's favourite book since childhood, it was the obvious choice for the fancy dress theme for her 30th birthday! Apparently, the party guests had been slightly perturbed when she first told them what the dress code would be, but as they were all used to Kate's eccentric tastes, they soon got into the spirit of things and had great fun deciding what character they were going to come as!
The Hog Roast Ashted team spent the day cooking in the beer garden of Kate's local pub, which was to be the 'Wonderland' for the evening. The landlord was perfectly happy with our presence-his only gripe was that he wasn't invited and wouldn't be able to try any of the delicious pork that was smelling tastier and tastier as the afternoon progressed! Kate's menu also included a selection of our individually handmade canapes and she had made a special request-she wanted them to be served on a 3-tier cake stand and placed in the middle of the long table for all the guests when they arrived, to fit with the Mad Hatter's tea party theme. This was no problem for us, as we always go the extra mile to honour any specific requests to make the celebration extra special and unique!
The tea party canapes were ready and waiting as the main characters arrived first, with Kate leading the way as Alice of course. Her partner John, the Mad Hatter for the evening, was close behind her, followed by Tweedle Dum and Tweddle Dee-2 of Kate's colleagues who were already considered something of a double act at work, the Queen of Hearts (aka Kate's mum) and Kate's brother Darren as the Cheshire Cat! Everyone certainly looked the part and we suddenly felt as if we had been sucked into Lewis Carroll's crazy world ourselves! Kate was thrilled with the presentation of the food and everyone was thrilled with the flavour! It was a bit surreal watching a six-foot cat with a maniacal smile tucking into our canapes, but that's all part of the job for Hog Roast Ashted and we wouldn't have it any other way!