Two years ago, a group of amateur poets, inspired by nature and proud of their local region, got together to share their poetry with each other and talk about what motivates them to write. Since then, they have been meeting up every Monday night without fail and the group have gone on to become very well-known in the local community. Last Monday however, was an extra-special night. The group were celebrating a major achievement: they had just had their own poetry anthology published and they wanted everyone in the community to join them in celebrating! Because all of their poems are inspired by their local region, they decided to enlist Hog Roast Minworth to do the catering, as we are well-known for our love of local produce and using only the freshest ingredients our region has to offer. There could not be a more fitting feast to toast the success of the newly published poets!
Family, friends and members of the local community were invited for an evening of poetry and pork to share in the group's success. The plan for the evening was for each of the published poets to treat their guests to a recital of their own regional poem, which would be followed by an equally fitting tribute to the virtues of the local area, with one of our delightful hog roast buffets.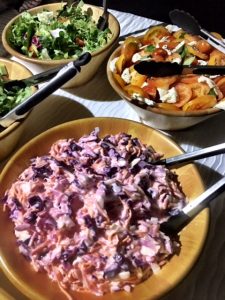 As thrilled as the poets were with the choice of vegetable and salad side dishes to accompany the meat, as well as the fact that we prepare it all from scratch at the venue, they were slightly concerned that our impressive exploits may distract their audience from the main event. They also admitted that they were all a bit nervous about their public recitals and felt like we would be extra members of the audience! We assured them that the Hog Roast Minworth catering team can be as prominent or unobtrusive as our clients want us to be. The poets were very relieved when they saw us in action and realised that we are more than capable of cooking on the quiet and that we were far too busy with our own culinary poetry in motion to stop and gawp at them whilst they were in the middle of theirs! It was an evening full of inspiring words and inspiring food and Hog Roast Minworth hope to see you all again after you've published your next anthology!