When you hire a hog roast machine from Hog Roast Marston Green, you get much more than a hog roast machine. You get our expertise as part of the package, as we walk you through the entire process (although it is actually much easier to use one of our machines that you might think). You also get a gas bottle included, as our equipment is gas-powered, meaning our portable machines can be transported just about anywhere you're thinking of cooking up a storm, without the need for electricity. Plus delivery and collection anywhere in the UK are both included in the rental price – you tell us your venue and we'll be there to drop it off and to pick it up when you're done.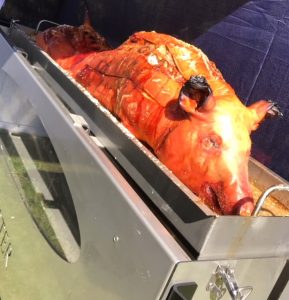 Hog Roast Marston Green recently hired out one of our smaller hog roast machines to Glen, who wanted to roast a hog at home for his family, for his own birthday. Having used our catering services in the past and spoken to our chefs about how to DIY, Glen took the plunge last weekend and asked us to deliver the machine to his home address on the Friday and to collect on the Sunday. If you're new to this style of cooking and you're not sure where to start when it comes to the meat itself, we can even also include this as part of the service, and Glen asked us to bring along a small hog together with the machine. When catering local events and parties, we use local, high-quality meat from trusted suppliers who we've been using for a long time now, so if you're not sure where to source yours, we can source it for you.
I had the pleasure of dropping off the machine to Glen on Friday and showing him to use it and also how to prep the meat itself for cooking. With the machine, it's simply a matter of turning it on, setting the temperature and keeping an eye on the meat as it cooks. Easy peasy!
When I went back to collect the machine on Sunday, Glen told me all about the fun he'd had preparing the meat, cooking it for several hours and then serving it to his rather impressed family members. He'll definitely be hiring a machine from us again.