It had come to the end of the snooker season and every year a presentation night was held to give the winners of the league the big trophy. There were also other smaller trophies to be given out for other achievements like the highest break and the biggest winner. A full night of entertainment was put on for all the snooker lads starting with a professional snooker player giving out the trophies to the winning team. This was followed by a buffet put on by Hog Roast Quinton.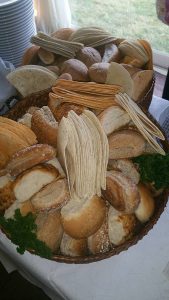 We had done the catering for this event on many occasions and were very pleased to be asked again. We knew the sort of food the event organisers wanted and we at Hog Roast Quinton didn't hesitate to accept. The buffet consisted of slow roasted pig served with apple sauce and stuffing with crispy crackling in a selection of bread rolls or wraps and chicken kebabs & meaty marinated spare ribs. A fresh crispy salad filled the table with colour. The evening carried on in the form of the professional snooker player doing a show of different trick shots and telling the stories from the professional circuit. As the event was also a charity night the professional snooker player offered to do several auction frames where whoever bid the most could play a frame of snooker against him. This was great for the lads to get the chance to play against one of their heroes and hope to win. The bids started at £40 and each frame rose and to a great amount varying from £85 up to £165 for the last frame. The air ambulance was the charity that would benefit and a representative from it came and received £790 which would go a long way to help with the cost of keeping the helicopters in the air.
The evening was a great success not only for the air ambulance but for us at Hog Roast Quinton as we were asked if we would do the catering for the next year's presentation and also the catering for a tournament they were holding in the next month. We accepted the bookings and were very pleased at how much everyone had enjoyed the food. With a lot of hungry snooker lads to feed we knew we had done a good job when at the end of the night there wasn't much left. That is what we call a job well done.