Moving into a new house is a big change to your life and is something that should be celebrated, as you move onto a new chapter. It is also important to note that you often can't complete the moving process without help from family and friends, so it can be a great idea to host a housewarming party to thank everyone for their help. As part of the occasion, why not enjoy some delicious catering from Hog Roast Nechells?
Sarah and Max moved into their first home together earlier in April, after previously living in two separate flats. Moving in together was a big step in their relationship and they were lucky to have such a beautiful new home to call their own. Since they were moving furniture and belongings from two different addresses, the move-in day was a big process and they needed lots of help from friends and family. After spending a few weeks settling in, decorating, and unpacking, the couple decided that it was time to host a housewarming party to thank everyone for their hard work. For their party, Sarah contacted our catering manager James to arrange a menu for the evening. She was looking for a buffet menu that could be cooked and served in the garden of their home, and Hog Roast Nechells have a variety of catering packages that are ideal for this!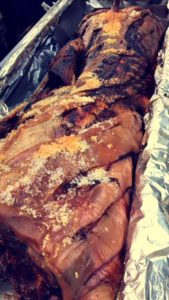 On the day of the housewarming party, Hog Roast Nechells arrived at the home at 3:00pm, which gave up plenty of time to prepare for the 8:00pm mealtime. We began by roasting the hog and preparing the BBQ pulled jackfruit, with both dishes later being served in fresh bread rolls, or a gluten-free alternative. We also served a selection of tasty sides, including fresh salad, crunchy coleslaw, sage and onion stuffing, and homemade chips. Overall, this was a delicious menu, and it went down a treat at the party!
Hog Roast Nechells have a menu for every event, of any formality! With over 7 different catering packages to choose from, there is bound to be something that is just right for you. Contact our team today to secure your date.