Denise recently contacted Hog Roast Redditch to ask us to cater a private party at her home, where she wanted a hog roast centrepiece to wow her guests in the back garden. Our highly experienced and qualified chefs and catering assistants often cater in a variety of locations, from posh hotels to loading docks, pub gardens to village halls, and sometimes the ideal location is your home address. For Denise's own milestone birthday celebration, she wanted to treat her family and friends to a hog roast, which we would make into pigs in buns, otherwise known as hog roast rolls.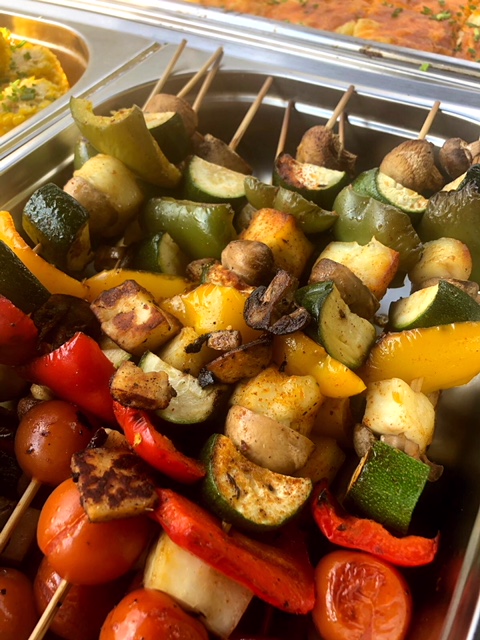 When Denise booked us in, she mentioned that her vegetarian daughter would need catering too, but as Hog Roast Redditch has spent years providing options for various diets, that wouldn't be a problem at all. Our chefs can rustle up some lovely dishes, such as stuffed mushrooms or peppers, veggie burgers or a Spanish quiche, but Denise chose our highly popular grilled veggie skewers, which we make with tasty halloumi cheese and fresh vegetables including tomatoes, mushrooms courgette, mixed peppers and red onion, then serve in pitta bread with our own Tzatziki dip. 
We catered Denise's special occasion over the weekend, and our Hog Roast Redditch chef and catering assistants made a great impression with both lovely food and great service. After arriving, the first order of the day was putting up our gazebo and serving tables, then preparing the meat by scoring it, adding water and lots of salt and using our trusty hog roast machine to then cook the beast. The hog took several hours to slowly roast to perfection, as you can't rush the process, but by the time it was done and resting, the surrounding air was full of amazing aromas and many of the guests were licking their lips in anticipation. 
Once the veggie skewers were perfectly grilled, our team prepared the fixings for the pigs in buns, including our homemade stuffing and apple sauce and fresh bread rolls and wraps, then it was time to get the carving knives out and seriously impress Denise and her guests.