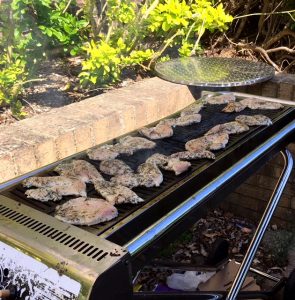 Our Hog Roast Wheatley team love to do a good job and one of the ways we know we have is with repeat custom. When a customer enjoys the food and is impressed with the service, they'll want to return to get the same high level of service and tasty food once again. When SAE Institute Oxford asked us to cater an event for them recently, it was for the fourth year in a row, so we must be doing something right!
The SAE Institute is one of the world's leading creative media centres, with post-secondary education in 54 campuses across 27 countries. In the UK, that's London, Liverpool, Glasgow, and Oxford, and the latter is where we were asked to cook a barbecue for the guests. While we are renowned for our hog and spit roasts, we can also do much more and can either provide additional options or alternatives if preferred, like for this event. We have gorgeous handmade burgers that are 100% beef and chef's lovely sausages but we can also cook fish or chicken, for example. For this event, there would be plenty of burgers and chicken escalopes to go round.
On the day of the event, the weather was perfect and our Hog Roast Wheatley team set up the equipment in the glorious sunshine, glad of the shade from our gazebo. We were asked for some salads to serve in addition to the meat, and we put together some fresh cherry tomato and green leaf dishes, as well as our homemade coleslaw, which is both crunchy and creamy. Burgers need buns and we came prepared with plenty of those as well as various condiments, which we always provide. There's nothing like a squirt of ketchup or mustard to finish off a burger.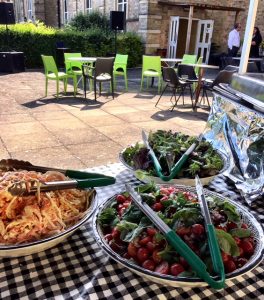 Once the meat was cooked, the bread rolls were sliced and the sauces were ready, it was time to serve. Our chicken escalopes with lemon thyme and garlic went down a storm and our handmade burgers were finished off with relish.
Hog Roast Wheatley hopes to cater next year's event at SAE Institute Oxford, too!