Hog Roast Sutton Coldfield caters all kinds of celebrations and special occasions, including weddings, birthdays, engagements, anniversaries and corporate functions, as a hog or spit roast really is suitable for any event you can think of. What you may not know is that we can cater parties with lots of other food too, if needed, and that's whether you want an alternative menu or additional food served. We can cook you a barbecue, with ribs, burgers that are 100% beef and gourmet sausages, cater dietary needs, like vegetarian, vegan, plant-based or gluten-free, serve canapés and drinks or prepare sides or multiple courses. Whatever your needs, we're the best choice you can make when it comes to fresh, tasty, wholesome food that's served by hard-working professionals.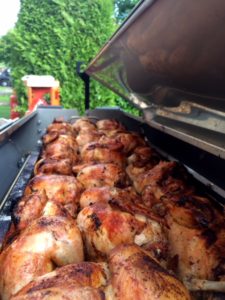 Our Hog Roast Sutton Coldfield team recently catered Tony's birthday party, where he wanted something that would suit all of his guests. With some of them preferring different meat, and two vegetarians to cater, we let Tony know about our amazingly versatile Southern Slow Roast Menu, which offers you a choice of three meats out of a possible five and four sides from a possible seven, plus a veggie option too. The meats are all marinated in our secret recipe rubs and then on the day they are cooked slowly but surely at a slow temperature for hours, until they are as tender as can be. You get to choose from barbecued pork, beef brisket, roast chickens, spicy lamb and sticky pork ribs, as well as from two salads, homemade coleslaw, jacket potatoes, spicy sweet potato wedges, mac and cheese, and corn cobettes, with the vegetarian option of halloumi and veg skewers. Phew!
Tony was thrilled with the sound of this menu, and selected pork, chicken and lamb, to be accompanied by some tasty sauces and the sides of mac and cheese, coleslaw, wedges and a Greek salad, as well as the veggie option for two of the forty guests.
Hog Roast Sutton Coldfield cooked up a storm with this fantastic menu on Sunday, making sure that all of Tony's guests had plenty of food, and plenty of variety too, and by the time we cleared away, almost all of the food had been completely devoured by the satisfied guests.