When Charlene first contacted Hog Roast Marston Green a few months ago, she was interested in learning more about our catering services and finding out what kind of food we have on offer to our customers. While we truly believe in the taste, sight and aromas of our amazing hog roasts – our specialty dish that we have spent a long time perfecting – we also believe in providing our customers with plenty of choice and variety so that all of the guests invited to your parties and events are well-fed with tasty, fresh and wholesome food.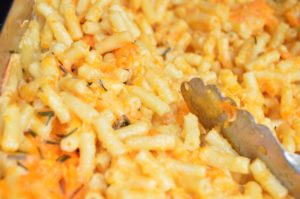 We have so many options available for those guests who are on a diet that they will be spoilt for choice – whether it's for a short-term, restricted diet or one that is imposed due to a lifestyle choice, religious reasons, allergy or intolerance. For example, vegetarians can enjoy our halloumi and veg skewers or we can make an alternative like stuffed peppers or quiche and we can even adapt those dishes to suit the requirements of vegan guests. Plus if you have any guests who have a gluten intolerance, that doesn't mean that they can't enjoy our famous pig in buns – just with suitable bread rolls that we bring along.
Sometimes Hog Roast Marston Green is asked to provide additional or alternative options for reasons other than diet, including for part of a bigger meal, to suit larger appetites or to cater for different tastes. We did this just recently for Charlene, whose 30th birthday party we catered on Friday evening, as she had asked us to cook a traditional centrepiece hog roast to make our luscious pigs in buns but to also make hot and cold sides for her and her twenty guests.
After checking out our menus, Charlene decided on our spicy sweet potato wedges, mac and cheese and crunchy homemade coleslaw, which would all be suitable for any vegetarian guests too.
On Friday afternoon, our Hog Roast Marston Green chef and catering assistant cooked a delicious hog roast from scratch for Charlene and her twenty guests at her friend's home and combined with the scrumptious sides that we made fresh too, it was a great feast that everyone loved.